This individual was recently confirmed to have been identified. Some details may change as more information is released publicly.
Winston Arthur Maxey III was a teenage boy who was found in Snedden Creek in Coos Bay, Oregon.
He was identified in October 2021 with assistance from Parabon NanoLabs.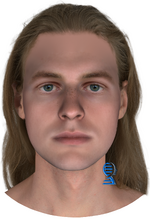 Characteristics
Clothing and accessories
Long sleeved turtleneck.
'Wrangler' jeans with leather strap criss-cross stitched along the outseam of both left and right legs.
Sources