This article includes content which may be disturbing to some readers. Discretion is advised.
Tyrus "Ty" Toribio, known as "Baby Angel" and "Baby Justice" while unidentified, was a toddler found buried at a playground in Albuquerque, New Mexico in 2009.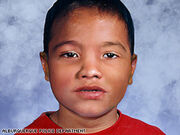 He was identified six days after he was discovered, and his mother was arrested and charged with his murder. She plead guilty to second-degree murder and child abuse and was sentenced to 25 years in prison.
Sources