This individual was recently confirmed to have been identified. Some details may change as more information is released publicly.
Timothy Daniel Gomez was a man whose remains were found by a cattle rancher on his private land in Gardendale, Texas.
He was identified in October 2021 by Othram, Inc.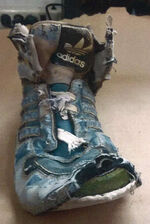 Clothing and accessories
Blue mid-top 'Adidas' sneaker.
Black and brown 'Carhartt' reversible jacket.
'Signature Taper by Levi Strauss' pants.
Black hair tie.
2002 'Audi' key fob.
Sources