Suzanne was one of several victims Keith Hunter Jesperson (also known as the Happy Face Killer) confessed to killing. He said the victim's name may have also been "Sue" or "Suzette."
Characteristics
Brown hair with bleached parts.
Clothing and accessories
Floral print jacket with draw string & zipper with sequins in a pattern on upper shoulder.
Knit cuffs and collar.
Full length floral patterned button up dress with 9 button holes with 7 cloth covered buttons.
Black cord bracelet with multicolored beads.
Silver colored ring.
Heart shaped silver colored ring.
Charm bracelet with no charms.
Simple cord necklace with triangle, square, and two circle pendants.
Silver band.
Media
Suzanne's reconstruction was visible in the office of an investigator during the first episode of Serial Killer with Piers Morgan when a separate murder spree was discussed.
Exclusions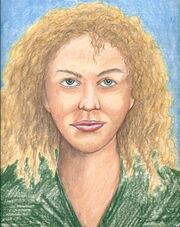 Sources