Stephen Patrick Archer was a man found deceased on an access road in Rohnert Park, California. A black mountain bike was found near the decedent with a child carrier attached to the back. Inside the carrier was various books on mathematics, physics and science. He was possibly a transient.
He was identified by the DNA Doe Project in November 2021 with his identity being released a month later.
Characteristics
Balding brown hair.
Full beard and mustache.
Clothing and accessories
Eyeglasses.
'Ben Davis' half-zip shirt.
Brown zip-up vest.
Camouflage zip-up jacket.
Black pants.
White socks.
Gray sneakers.
Gray 'Timex' digital watch.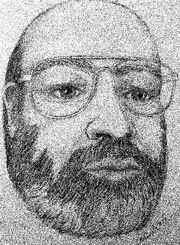 Sources