Create the page "Ties to South America" on this wiki! See also the search results found.
About 600 results for "Ties_to_South_America"
Sea near northwestern Sicily on January 2, 2001. A piece of her jewelry suggests she may have

ties

to

South

America

. The decedent was found floating in the Mediterranean, between the island of Levanzo and

Carapicuíba John Doe, 2008 HOMICIDE Jesse Galganov, 2017 SUSPECTED ACCIDENT

cocaine before death. Based on the circumstances, authorities suspect she was a prostitute and victim of a serial killer. Additionally, they speculate she may be from

South

America

, particularly Brazil due to her unshaven underarms.

New York, North Carolina, North Dakota, Northern Mariana Islands, Ohio, Oklahoma, Oregon, Pennsylvania, Puerto Rico, Rhode Island,

South

Carolina,

South

Dakota, Tennessee, Texas, Utah, Vermont, Virgin Islands, Virginia, Washington, West Virginia, Wisconsin, Wyoming Canada[] Atlantic

Little Lord Fauntleroy was a child found dead in Wisconsin in 1921. He was murdered; he was beaten and thrown into a quarry. The child's body was found in a quarry in Waukesha, Wisconsin

Montreal, Quebec, Canada to go on a trip after graduating from Wesleyan University in Middletown, Connecticut in the USA. He was going to

South

America

first and then India and then to the far east.

Below is a list of resources for users to explore while contributing. Agencies wishing to be listed may contact us at unidentifiedwiki(at)gmail.com or one of our social media accounts.

her murder. Days before the killing, they possibly smoked crack cocaine together. She was possibly native to

South

America

, based on her dental work. Characteristics[] She had long blond hair, that was possibly dyed., Her

Hillsborough County John Doe was a male who committed suicide in 1992. The decedent was located in a vacant house in Tampa, Florida on March 18, 1992. It appeared that he had been living in

Garden Grove Jane Doe was a woman found murdered in 1990. On October 4, 1990, five children discovered the descendent while walking to school in Garden Grove, California.

This is a NCMEC alert… The Baltimore City Police Department needs your help to close a nearly 40 year old case. A new tip suggests the young girl found deceased in 1976 in Maryland, known

This individual's NamUs file has recently been removed. While this implies the resolution of a case, no identification has been confirmed at this time. This article includes content which may be disturbing to some

Kenosha County John Doe was a man found deceased near the Soo Line railroad in Pleasant Prairie, Wisconsin, in 1993. He is currently undergoing testing at the DNA Doe Project.

Also known as the "Boy in the Box". Even as of 2015, this is a cold case. If there is anyone who remembers this child or is aware of this child's fate please contact

Tammy Jo Alexander (November 2, 1963 - November 9, 1979), previously known as "Cali Doe" and Caledonia Jane Doe, was a teenage girl who was murdered on November 9, 1979, and found on November 10. Her

James Paul "J.P" Freund (September 16, 1946 - August 9, 1976), known as "Jock Doe" while unidentified, was a young man who was shot to death on the morning of August 9, 1976. His companion

Apache Junction Jane Doe was a young woman found deceased near a desert-like area in Apache Junction, Arizona in 1992. She is currently undergoing testing by the DNA Doe Project.

This article includes content which may be disturbing

to

some readers. Discretion is advised. Sharon Baldeagle was an American preteen who was abducted after hitchhiking with a friend in Wyoming. Her friend had escaped their

This article includes content which may be disturbing to some readers. Discretion is advised. Brittanee Drexel was a young woman who went missing from

South

Carolina in 2009. Foul play is strongly suspected in her

This article includes content which may be disturbing to some readers. Discretion is advised. Lindsay Marie Harris (September 3, 1983 - May 2005) was a young woman whose dismembered legs were found in a wooded area

This individual was recently confirmed to have been identified. Some details may change as more information is released publicly. Emil Joseph Kapaun is a United States Army Captain a United States Army Roman Catholic chaplain

Cincinnati area and have homes in Norwood and Deer Park, Ohio. Donald and Clara eventually divorced, and she married

to

a man named John Long and the family moved

to

Bond Hill in the 1930s.
Related Community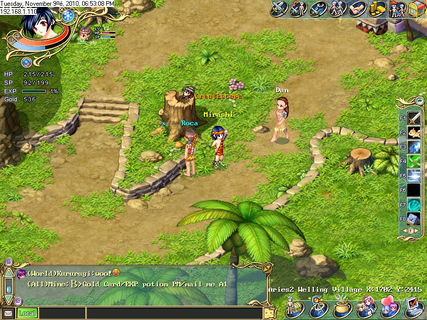 games
2K
Pages

2K
Images

1
Video
The ultimate guide for Wonderland Online that anyone can edit! Wonderland is a 2D adventure MMORPG based on several ancient South American and pacific Island cultures, the mysterious Mayans, the huge stone statues of Easter Island and much more combine to…
View More Wikis