Snohomish County John Doe, also known as Stilly Doe, was a male located in the Stillaguamish River in 1980. Foul play is not suspected in his death. The decedent was initially believed to be of Native American or East Indian descent, until later genetic testing suggested he was of Northern Atlantic and Mediterranean ancestry, indicated by Othram, Inc.
Characteristics
Graying hair.
Stubble on his cheeks and chin.
He suffered from coronary artery atherosclerosis, which may have been a factor in his death.
"Hammer toe" deformity on his left big toe.
Clothing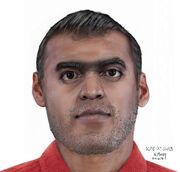 Red flannel shirt.
Black or gray suit-jacket.
Black or gray trousers.
Cotton undershirt and long underwear.
Black 'Winthrop' shoes with paper arch supports.
A leather belt with a buckle containing the letters "GRN."

The letters are thought to possibly represent the man's initials.
Sources