Selina M. Hoheusle was a woman who went missing from the Narrowsburg Home for Adults, an assisted living center in Narrowsburg, New York on June 13, 2004.
Her remains were found in an embankment in Wayne County, Pennsylvania on April 3, 2020. She was identified one year later in September 2021.
The circumstances surrounding her death are currently under investigation, however, as there was an 'unusual dentition' observed in the skull, her death has been ruled a homicide.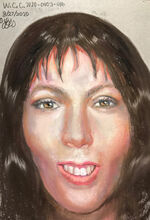 Sources