"Ricky" and "Little Ricky" were the names used by a man found deceased in a driveway. He worked oddjobs and rode a bicycle.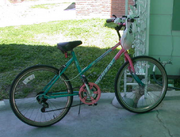 Characteristics
Grayish-Brown hair.
Full beard and mustache.
Blue eyes.
Appendectomy scar.
Clothing
Pink button-up shirt.
Zip-up jacket.
Gray and yellow sweat shirt.
Blue denim jeans.
White thermal underwear.
Blue belt.
Gray socks.
White socks.
Sources