Phoenix Jane Doe was a woman whose body was found in a ditch along a roadway in a desert area. Forensic Genealogy has shown that she is likely a member of the San Carlos Apache Tribe.
Characteristics
Wavy dark brown or black hair that was cut short.
Brown or black eyes.
She likely had few to no freckles.
She had braces in the past.
She wore a retainer.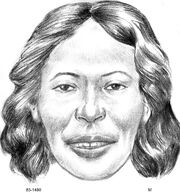 Exclusions
Sources