"Paul Deering" was the alias used by a man who committed suicide in a hotel in October of 1993.
Case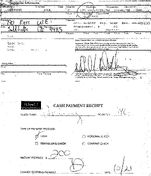 At around 7:30 PM on October 21, 1993, a man checked into the Hyatt Hotel at LAX Airport in Los Angeles, California. He gave his name as being Paul Deering and gave an address of 790 East Ute. Salt Lake City, Utah.
On October 23, the man failed to check out of his room so hotel staff entered his room, only to find him unresponsive on his bed. He had used cyanide to end his own life.
Under the assumption that Paul Deering was the decedent's name, authorities launched an inquiry into the address he had provided. This inquiry revealed that a Paul Deering had been living in the residence and he was alive, leading to authorities to conclude the decedent had assumed an identity. It is unknown whether the real Paul Deering had any affiliation with the decedent.
Exclusions
Characteristics
Clothing and accessories
Red shirt.
Tan pants.
A wedding ring.
A brown belt.
White underwear.
Brown shoes.
A key to a BMW car.
Sources