Palm Beach County Jane Doe was a woman who was discovered in a wooded area in Loxahatchee, Florida, in late 1982.
Case
The victim was discovered in a wooded area of Loxahatchee, Florida. A teenage girl, Tina Maire Beebe, was also located in the area on May 29, 1982, but her remains were not identified until 2013. Their locations of discovery were close to property owned by Christopher Wilder AKA the Beauty Killer.
Between February 1984 to April 1984, Wilder, a photographer with a history of sex offenses since 1962, went on a cross-country crime spree where he charmed, raped, tortured, and killed eight young women in the United States before committing suicide when confronted by police in New Hampshire. Since his death, he has been considered a suspect in several cases of rape, murder, and disappearances across the United States and his home country of Australia.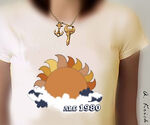 Other women who may have been victims of Wilder include Broward County Jane Doe (1984), Tammy Leppert, Colleen Orsborn, Shari Ball, and Tammy Alexander.
Characteristics
Possibly brown hair.
Possibly multiple pregnancies.
Previous back injury.
Possibly a smoker.
A crown and numerous fillings.
Four antemortem extractions.
Teeth #1, 5, 19, 30, and 16 impacted.
Three temporary porcelain caps.
Clothing and accessories
T-shirt w/ "Moose Ale 1980" on it.
Blue jeans, size 29 x 32.
Bra, size 34D.
White string bikini panties.
Benrus wristwatch.
Two "diamond" rings; one was a white metal pinky ring and the other was a 10k yellow metal cocktail ring with 4 baguette white stones.
Necklace w/ yellow metal mariners anchor present.
Exclusions
Sources