New Castle County Jane Doe was a woman whose partial skeletal remains were discovered in a wooded area. Few details are available in this case. In May 2021, the New Castle County Division of Police partnered with Othram, Inc in order to identify the decedent.
Characteristics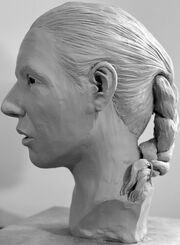 Long, fairly thick brown hair tied in a single, loose braid measuring an estimated 13 inches.
Gold colored dental restorations high on the crowns near the gumline on the bottom teeth, specifically on the labial surface of the right canines, left canines, and the right lateral incisor. They may have been decorative inlays.
Clothing
Blue men's shorts found several feet away, however they may not be connected to the decedent.
Exclusions
The following missing persons have been ruled out as the decedent, per NamUs:
Venus Stewart
Katherine Heckel
Gene Kimmel
Doris Wood
Christopher Milam
Sources