This article includes content which may be disturbing to some readers. Discretion is advised.
Monroe County Jane Doe was a woman whose remains were discovered on March 28, 2002, in Illinois. She is one of the three unidentified victims of the St. Louis Serial Killer, identified in 2002 as Maury Troy Travis. The other three victims are Madison County Jane Doe, St. Clair County Jane Doe and St. Charles County Jane Doe.
Characteristics
She had a healed fracture on her forehead witch may have been from a childhood injury. This could also have left a scar.
There was 'no evidence' that she had ever given birth.
She had dark brown hair.
Clothing and accessories
Green shirt with the letter 'M' and 'Mavericks' printed in orange on the front.
Khaki canvas shorts.
Brown leather belt with a silver buckle.
Gallery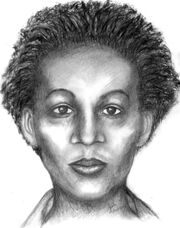 Sources