This article includes content which may be disturbing to some readers. Discretion is advised.

Mission Jane Doe is the only unidentified murder victim of British Columbian serial killer, Robert Pickton.
Case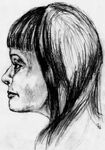 The victim's severed skull with a vertebra still attached to it was found near a swamp south of Highway 7 and 800 meters east of Ruskin Bridge. It is believed her skull was cut in half with a power saw. She was found by a local woodworker named Bill Wilson, who was collecting water from the creek to wash his car. He informed Mission's Royal Canadian Mounted Police Detachment of his discovery the next day.
Robert Pickton's pig farm was searched in August 2002. Not only did searchers find more human skulls mutilated in a fashion similar to the victim, but heel bones, ankle bones, and a rib bone belonging to this victim were found buried in a pit behind Pickton's slaughterhouse.
Between 1983-2002, Pickton may have been responsible for up to the murders or disappearances of forty-nine women, many of them from Vancouver's Downtown Eastside. He was charged with this victim's murder on May 26, 2005, but the charge was lifted on March 2, 2006. He was eventually convicted of six murders and sentenced to life in prison.
In 2011, the Federal Bureau of Investigation created a sketch of Jane Doe. Since then, a DNA profile for her has been provided to every laboratory in Canada and Interpol's 188 member countries. Police think it's possible the victim's family either doesn't know she's missing or believe that she's already been reported missing.
Characteristics
Teeth on the right side of her upper jaw were missing.
She could have worn dentures.
Sources