Miami-Dade County John Doe was a male who drowned in Miami Beach, Florida. 12 men have been ruled out as the decedent as of May 13, 2021.
Case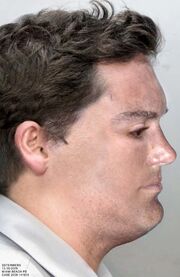 On Christmas Eve 2009 in Miami Beach, Miami-Dade County, Florida, a couple walking along the beach came across the body of a man floating face-down near the shoreline.
An autopsy showed that the man, who had brown hair and brown eyes and was clad only in blue swim trunks and New Balance sneakers, had been the victim of an accidentally drowning. He had both alcohol and codeine in his system.
Characteristics
Brown hair.
Brown eyes.
Lower legs and ankles are hairless.
Clothing and accessories
Black watch, "Amitron" brand.
Wearing a pair of blue swim trunks, "Speedo" brand.
New Balance sneakers.
Black socks.
Sources