This article includes content which may be disturbing to some readers. Discretion is advised.

Mary Ann Perez was a woman whose remains were found in Grand Bay, Alabama in 1976.
Case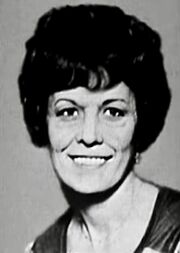 After a night out with a friend, Perez accepted a ride from a couple, David and Donna Courtney. At the time, she was allegedly "tipsy" and was persuaded by the Courtneys to allow them to drive her home. The couple instead brought the victim to their mobile home, where she later fell asleep.
Donna Courtney reportedly made "sexual advances" upon the unconscious guest, who then woke and was upset. Fearing Perez would notify authorities, the Courtneys falsely promised their victim to allow them to transport her to her residence. As Donna drove, David strangled her and dumped her body in a field in Alabama. After the pair were questioned in prison for an unrelated homicide, police concluded that Perez, still a missing person, was a murder victim the couple described killing in 1976.
Fifteen years after she disappeared, a woman claiming to be the victim's "best friend" called the residence of Perez' son, whose wife answered. The caller claimed the missing woman was still alive, yet not permitted to speak. Although Perez' daughter-in-law was skeptical at the time, other members of their family remained hopeful, believing that there was a possibility that the strangulation had been unsuccessful and Mary Ann could have suffered from amnesia. Authorities, however, doubted the credibility of the caller, who was ultimately proven to be untruthful 27 years later, when Perez was identified.
David Courtney is already serving time in prison for another murder. Donna Courtney died in 1990.
Media
Perez' case was shown on the seventh episode of season four of Unsolved Mysteries in 1991, prior to her identification.
Sources