Los Angeles Jane Doe was a female found unresponsive on a bench in 1994. She died four days after her discovery.
Characteristics
Black hair.
Brown eyes.
Scar on abdomen.
Clothing and accessories
Pink robe with no name or labels.
Disposable diaper.
Eight keys attached to a red cross.
Three brackets.
A black radio with headphones.
A 'Seth Thomas' clock.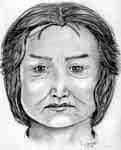 Sources