Los Angeles Jane Doe was a teenager or young woman who was witnessed jumping to her death into oncoming traffic in August 1975.
Characteristics
Black hair, extending below her shoulders.

Her hair is depicted as wavy in artistic renderings, although this has not been specified.

Brown eyes.
Underdeveloped pointer fingers

Congenital defect on both her index fingers and they were shorter than normal.
Clothing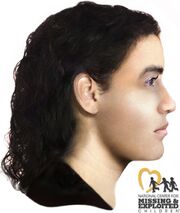 White blouse with a green floral pattern.
Capri pants that were either red or a "dark pink".
A pair of 'Olga' sandals.
Sources