Little Lord Fauntleroy was a child found dead in Wisconsin in 1921. He was murdered; he was beaten and thrown into a quarry.
Characteristics
Blond hair.
Brown eyes.
A missing tooth on the side of his jaw.
Clothing
He wore leather shoes with "cloth tops".
Gray sweater.
Light shirt.
Black stockings.
Case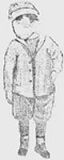 The child's body was found in a quarry in Waukesha, Wisconsin. It appeared he had died months before, in late 1920 or early 1921. He was killed by a blow to the head.
Around the time he was thought to have died, an adult couple was seen in the area. The woman appeared distraught and had asked if the witness had seen a male child in the area. The man was observed to have peered toward the quarry. Some theorized they were his parents.
One woman was observed to frequently visit the grave, dressed in funeral attire. She may have also been connected to the case.
Connection to Homer Lemay
During the late 1940s, it was suggested the child may have been Homer Lemay, who disappeared at the time the boy was murdered. His father was accused of fabricating the story of the child's death in South America, but was acquitted. Lemay resembled the child, but was never conclusively linked to the case. He currently remains missing.
Sources