Lester J. Rome (April 20, 1926 - c. 1984) was a man whose partial remains were found in a well in 1986.
He was identified on October 18, 2021.
Case
A property owner found Rome when cleaning out an old well on Recknor Road. The property owner discovered a large polyethylene plastic sheet inside the well, which he was planning to use to water livestock, and pulled it up to see what appeared to be part of a body in the water. Police believe that the individual or individuals who dumped the body in the well were familiar with the area, as the well was located on a dirt parish road.
The victim fractured his skull just prior to his death and he had been stabbed twice in the back, possibly with a large hunting knife. He may have received some type of medical treatment prior to his death as a urine cup was found in his possession.
On October 28, 2021, 74-year-old Delwin Avard Sibley was arrested and charged with Rome's murder.
Characteristics
He had an old injury to his left hip from being shot. He would likely have walked with a limp as a result and probably suffered from chronic pain even though the injury had healed.
Bridge on the upper right side of his mouth.
Multiple fillings.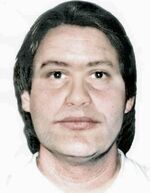 Clothing and accessories
Blue shirt.
Blue knit pants.
Brown belt.
A light blazer type jacket.
Sneaker type shoes.
A key ring with five small keys on it.
A folding brush/ comb combination.
A urine cup.
A small pocket knife.
A Snoopy night light.
Sources