Kerry M. May-Hardy (1950 - c. June 24, 1972) was a young woman who initially disappeared in the summer of 1972. Her remains were discovered at a golf course in September 2010, after her burial site was disturbed.
Disappearance
May-Hardy's DNA was obtained in 2004 from family members, initially for the investigation of the Green River murders, committed by Gary Ridgway between the 1970s and 1990s. Another Washington-based serial killer, Ted Bundy, is more frequently mentioned as a possible killer, as he frequented the area during the time she disappeared.
May-Hardy fit Bundy's general victim profile, yet the investigation has yet to confirm whether she had actually been a victim of either murderer. Bundy was executed in 1989, never mentioning involvement, and Ridgway has not reportedly commented on her case.
Discovery
May-Hardy's skeletal remains were unearthed on September 6, 2010 by construction machinery, in a grave measuring two feet or less in depth. She wore blue clothing and a gold ring. The location was in the general proximity where Ted Bundy discarded known victims near Interstate 90, although he has yet to officially be labeled as a person of interest.
Reports about the discovery within the first day mentioned that the remains may have been placed at the scene after 2002, based on previous land development activity. The following March, it was released that the date of her death was placed between the 1960s and 1990s. At the time May-Hardy was reported missing, the site had been used for logging, and it was heavily wooded.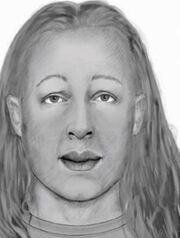 There were no existing missing person cases from the county that were consistent with the remains. Authorities believed early on that the victim was not likely from the immediate area. Examination suggested the victim was between 5'4 and 5'10, at the age of 19 to 40 when she was killed. It was also noted that the then-unidentified female had undergone a significant amount of dental procedures. She was erroneously thought to have possibly been of Hispanic ethnicity.
Dental charting was entered into a national database, which did not lead to her identification. A facial reconstruction was later created in hopes that she would be recognized.
Identification
Her family reported a resemblance to the facial reconstruction. DNA from the skeleton matched the family's sample on June 1, 2011. The identification was announced two days later, and her relatives announced plans to bury her remains.
Sources
KIRO TV
Daily Record News