Jefferson County Doe was an individual whose skeletal remains were found on an Appalachian trail in April 2020.
Clothing and accessories
'Montgomery Ward' brand dress shirt.
Red jacket.
White high-top 'Puma' shoes (Size 10).
A necklace with an image of Saint Mary and the inscription, "O Mary conceived without sin, pray for us who have recourse to thee."
White sock with three red rings and a 4-inch crucifix.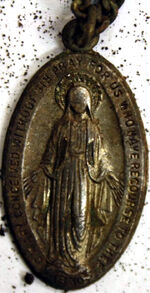 Sources