m

 

(9 intermediate revisions by the same user not shown)
Line 1:
Line 1:
 
+

{{Identified_Infobox|title1=Janet Robinson|image1=JanetRobinson.png|discovered=October 25, 2020 (right foot)<br>March 17, 2021 (left foot)|span=11 months|location=Charleston, South Carolina|condition={{dec}}|cod={{ns}}|identified = October 2021|missing_from = Lowcountry, South Carolina|name = Janet Robinson|disappeared = August 3, 2020|age = 57}}'''Janet Robinson''' was a woman whose foot was found on an island in Charleston, South Carolina. Her other foot was found on March 17, 2021.

−

{{Recent discovery}}{{UID_Infobox|title1=Charleston County Doe|image1=UP75470.jpg|discovered=October 25, 2020 (right foot)

 
−

March 17, 2021 (left foot)|span={{how long ago|2020|10|25}}|location=Charleston, South Carolina|condition={{dec}}|cod={{ns}}}}

 
 
 
 
+

She was identified in October 2021 by Othram Inc and the Charleston County Coroner's office. Her cause of death is still unknown and is currently under investigation.

−

'''Charleston County Doe''' was an individual whose foot inside of a sock and sneaker was found on an island in Charleston, South Carolina. The other foot was found on March 17, 2021.

 
 
+
 
+

[[File:UP75470.jpg|thumb|left|150px|Sneakers]]

 
 
 

== Clothing and accessories ==

 

== Clothing and accessories ==

Line 11:
Line 12:
 

== Sources ==

 

== Sources ==

 
 
 
+

* [https://wpde.com/news/local/foot-found-near-fort-sumter-last-october-identified-with-genetic-sequencing-technology ''ABC 15 News'']

−

* {{NamUs|75470|Charleston County Doe}}

 
 
+

* [https://dnasolves.com/articles/charleston_county_fort_sumter/ DNASolves]

 
+
 
+

{{DEFAULTSORT:Robinson, Janet}}

 
+
 

[[Category:People found in South Carolina]]

 

[[Category:People found in South Carolina]]

⚫
 
⚫
 
⚫
 
−

[[Category:Unknown postmortem interval]]

 
⚫
 
 

[[Category:Partial remains]]

 

[[Category:Partial remains]]

 

[[Category:Head missing]]

 

[[Category:Head missing]]

Line 24:
Line 24:
 

[[Category:2020 discoveries]]

 

[[Category:2020 discoveries]]

 

[[Category:2021 discoveries]]

 

[[Category:2021 discoveries]]

−

[[Category:Recent discoveries]]

+

[[Category: ]]

 
+

[[Category:1960s births]]

 
⚫
 
⚫
 
+

[[Category:2021 identifications]]

 
+

[[Category:Othram cases]]

 
⚫
 
+

[[Category:Formerly missing people from South Carolina]]

 
⚫
---
Latest revision as of 03:26, 5 February 2022
Janet Robinson was a woman whose foot was found on an island in Charleston, South Carolina. Her other foot was found on March 17, 2021.
She was identified in October 2021 by Othram Inc and the Charleston County Coroner's office. Her cause of death is still unknown and is currently under investigation.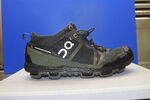 Clothing and accessories
Grey 'Cloudventure Midtop Forest' sneakers.
Ankle socks.
Sources