Holiday Beach John Doe was a male who was recovered from the shores of Lake Erie, 3 miles south of Holiday Beach, in the municipality of Amherstburg, Ontario in 1983. The NCMPUR have confirmed he was a victim of foul play, however, his exact cause of death is unknown.
Characteristics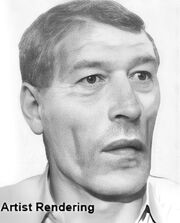 He had dyed reddish hair interspersed with dark brown and greying hairs.
His teeth were in poor condition; staining suggested that he was a smoker.
Clothing
The remnants of denim jeans with a Corniche Jeans button. (Size 31).
Light blue material with remnants of an elastic band, which might belong to boxer shorts or swimming trunks.
Brown belt (Size 31).
Sources