Hoboken Jane Doe was a woman found drowned in a river in 2005. 44 women have been ruled out as being the decedent.
Characteristics
Brown hair.
Brown or hazel eyes.
Very short nails.
Pink toenail polish.
Clothing and accessories
One black cowboy boot.
Mismatched socks, one with floral design, the other striped.
"Citizens" quartz watch with a black band.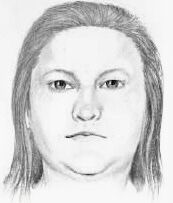 Sources