Henry Edward Ellis was an United States Marine who was killed in action on November 30, 1950 during the Korean War. His remains were recovered during Operation GLORY and identified on September 29, 2020.
Background
Henry Ellis was born on August 14, 1928 in Salisbury, North Carolina to Martin and Onie Ellis. In 1943, he was drafted into service despite being fifteen years old. Although Martin wrote letters pleading for the error to be correct Henry would end up serving in the Pacific Theater of World War II. After his tour of duty ended, he voluntarily reenlisted and continued to serve and was deployed to the Korean War. By the time of the Korean War, Ellis was a private first class of Headquarters Company, 1st Service Battalion, 1st Marine Division.
On November 30, 1950, Ellis was part of a convoy that was roadblocked by the North Korean People's Army (KPA) near Koto-ri, North Korea. During the battle, he was killed, but his body was not recovered. Many of the Marines who were killed were eventually buried in the United Nations Cemetery at Koto-ri as UN forces withdrew from the area.
Aftermath
After the end of the Korean War on July 27, 1953, Operation GLORY took place. Between September 1 to October 30, 1954, North Korea turned over 4,200 remains, nearly 3,000 of which were determined to be American. Ellis' remains were among them, but they were not identified as his. As a result, the remains were simply identified as "X-13631." "X-13631" and 847 other unidentified remains would be buried at the National Memorial Cemetery of the Pacific, also known as the Punchbowl, in Honolulu, Hawaii.
Ellis was declared non-recoverable on January 16, 1956. He was posthumously awarded the Purple Heart, the Combat Infantryman's Badge, the Korean Service Medal, the United Nations Service Medal, the National Defense Service Medal, the Korean Presidential Unit Citation, and the Republic of Korea War Service Medal. He was memorialized at the Courts of the Missing at the Honolulu Memorial in Honolulu and at the National Korean War Veterans Memorial in Washington, D.C.
Identification
In March of 2012, historians, anthropologists, and odontologists at the Joint POW/MIA Accounting Command, a predecessor to Defense POW/MIA Accounting Agency, conducted in-depth research to support the exhumation of "X-13631." They determined "X-13631" could be two Marines, one of the being Ellis. On November 5, 2018, the DPAA disinterred "X-13631" and seven other unknowns as part of the Korean War Identification Project. These remains were transferred to the DPAA Laboratory at Joint Base Pearl Harbor-Hickam for analysis.
Using dental and anthropological analysis, as well as circumstantial evidence and mitochondrial DNA (mtDNA) analysis, "X-13631" was identified as Henry Edward Ellis on September 29, 2020. He was buried with full military honors on August 23, 2021 at Salisbury National Cemetery Annex in Salisbury.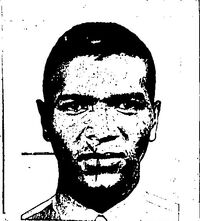 Sources