Hamilton County John Doe was a man who was found deceased in a wooded area in Birchwood, Tennessee on August 29, 2006. Over 100 men have been ruled out as being the decedent.
He is currently undergoing testing by the DNA Doe Project.
Characteristics:
Poor dentition, the decedent had many missing or decayed teeth.
His body had been hidden with black plastic bags in order to conceal it.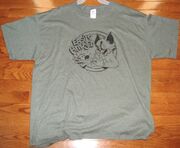 Clothing and accessories
Grey T-shirt with characters Tom and Jerry and words "Easily Amused"
Arizona brand jeans; size 34
White Sneakers
Bandana
Sources