This article includes content which may be disturbing to some readers. Discretion is advised.
Grant County John Doe was a man whose remains were found in a tobacco barn in Kentucky. His hands were cut off and never recovered.
He is currently undergoing testing by the DNA Doe Project. A donation drive has been set up by the Project for special procedures to extract DNA from the decedent.
Exlclusions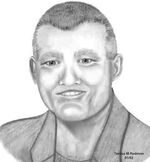 Sources