Obi-Wan Finale - The Loop
Play Sound
Francisco Gonzales "Frank" Vejar was a United States Army soldier declared missing in action on November 30, 1950 during the Korean War. His remains were returned to US custody on July 27, 2018 and identified on April 14, 2020.
Military service
Frank Vejar was born on April 12, 1932 in Douglas, Arizona. He joined the United States Army from Cochise, Arizona. He was assigned as a Sergeant First Class of Heavy Mortar Company, 31st Infantry Regiment, 7th Infantry Division.
The 7th Infantry Division took part of the Battle of Inchon AKA the Inchon Landing between September 10 and September 19, 1950. United States and South Korean forces invaded and had taken over the city of Inchon. This battle was a strategic victory for the United Nations Command that turned the tide of the war in their favor. Vejar likely participated in this battle, but details of his participation are unknown.
Vejar's unit took part in the Battle of Chosin Reservoir, which between November 27 and December 13, 1950, the North Korean Korean People's Army and the Chinese People's Volunteer Army recovered northeastern Korea and caused the UNC to retreat. In the ensuing chaos, Vejar was reported as missing in action on November 30, 1950. Over 17,000 of United Nations soldiers were killed, wounded, or missing and between 49,000 and 60,000 Chinese soldiers were killed or wounded.
Aftermath
Vejar was not among the remains and Prisoners of War recovered by the end of the Korean War on July 27, 1953. He was listed as presumed dead on December 31, 1953.
Vejar was posthumously awarded the following awards: Purple Heart, Combat Infantryman's Badge, Korean Service Medal, United Nations Service Medal, National Defense Service Medal, Korean Presidential Unit Citation, Republic of Korea War Service Medal. Additionally, he was memorialized at the Honolulu Memorial Courts of the Missing in Honolulu, Hawaii and the National Korean War Veterans Memorial in Washington, D.C.
Identification
On July 27, 2018, following a US and North Korea joint-summit between President Donald Trump and Supreme Leader Kim Jong-un the month before, the North Korean government returned fifty-five boxes of unknown US soldiers to US custody. They arrived at Joint Base Pearl Harbor-Hickam, Hawaii on August 1, 2018. One of the boxes held remains recovered by the North Korean Korean People's Army at Sinhungri, South Hamgyong Province, North Korea. Scientists at the Defense POW/MIA Accounting Agency used mitochondrial DNA (mtDNA), Y-chromosome DNA (Y-STR) and autosomal DNA (auSTR) analysis to identify the remains.
Based on these DNA analysis techniques and historical evidence, Frank Gonzales Vejar's remains were identified on April 14, 2020. The identification was announced on April 20, 2020 and again on August 24, 2021. He will be buried in his hometown at to-be-determined date.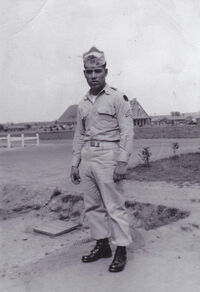 Sources