Francisco Gutierrez was the alias of a man found dead in Phoenix, Arizona. He also used the alias Roel De la Cruz Pino.
Case
The victim was found dead in a residence near Indian Road and 24th Avenue in Phoenix, Arizona on July 24, 2002.
He had a girlfriend who did not know his identity and stated he was from Mexico.
She also stated that he used the names Francisco Gutierrez and Roel de la Cruz Pino. His identity could never be confirmed.
Characteristics
Black hair.
Thin mustache.
Brown eyes.
Scar on arm.
Clothing and accessories
Black jeans.
Belt
"Our Lady of Guadalupe" square leather pendant on leather necklace.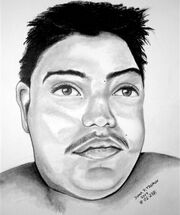 Sources