Fanstin Hidalgo-Castillo was a man who died after being attacked. He was identified in 2018.
Case
The victim, a migrant farm worker, was located alive in Immokalee, Florida, on June 7, 2003. He had suffered blunt force trauma which was determined to have been inflicted by someone else. He was rushed to Naples Community Hospital in Naples, Florida, but passed away shortly after arrival. Before passing away, the victim identified himself as Irraglo Faustino, a name that later proved to be false. Additionally, the victim had also provided the name Faugsisino Ildago during an encounter with police in Immokalee in early 2000.
Identification
After running his fingerprints, authorities were able to positively identify the victim as a Mexican national, Fanstin Hidalgo. Fanstin was born on June 24, 1979, and was 23 at the time of the murder, and was 17 days shy of his 24th birthday. He had previously been apprehended by USBP in 1997 near the United States-Mexico border. He was deported back to Mexico, but not before a photograph was taken of him. Despite him being identified, no further information regarding Fanstin was uncovered and relatives have yet to be located.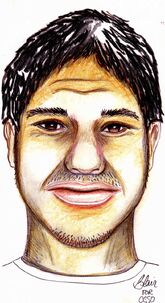 Sources