Evelyn Moore was a woman shot to death in New York. She had previously used the names Acey Moore, Shirlene Dixon, and Fanny Hill at other times. Her body, matched to her by fingerprints, was discovered in 1970.
Background
Evelyn was leading a street life for a few years before the death; she was known as a crossdresser and person involved in drug trade in New York City.
Case
The victim was found with a gunshot wound in a decomposed state.
She was identified after the searching in Orangeburg census where her name popped out, and was later recognized from photographs by her family members.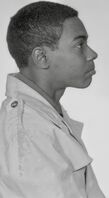 Sources