Esquimalt John Doe was a man who was found deceased in a lagoon. He was found at 11 P.M. by a mother and daughter walking their dog.
Characteristics
Evidence of dental work.

Metal fillings in his upper jaw, which was intact.
John Doe had dental braces, but it's unspecified if he had them at a previous point in life or had them at the time of his death.

Appendectomy scar.
A medium or average build.
No injuries to suggest foul play.
Clothing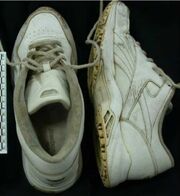 Black Nautica Rigger corduroy pants in a size 32x30.
A black and blue belt with a red stripe.
Beige underwear.
Black socks.
White Reebok shoes in a size 10.
Sources