We're Getting Mutants in the MCU - The Loop
Play Sound

This individual was recently confirmed to have been identified. Some details may change as more information is released publicly.
Donald Rindahl was a man whose skeleton was located on private property in Isanti County, Minnesota, near Highway 47 and County Road 5, in 2003, when an excavator discovered a skull in a load of earth.
Investigators discovered additional remains both at the original burial site and the site where the earth from the excavation was being dumped.
He was identified in January 2022.
Case
The body was buried about three feet deep. The manner of death is unknown but the depth and location of the grave are highly suspicious and investigators are treating the case as a homicide. There is also the possibility that the remains could have been on the site since the 1970s.
Identification
Rindahl was identified in January 2022 with the help of Othram Inc. and forensic genealogist Barbara Rae-Venter. Rindahl disappeared in 1970 at the age of 22. He was living with a roommate in New Brighton, Minnesota and had told his family he'd be moving to California. The FBI sought him before his disappearance due to his involvement with illicit drugs. He was not reported missing as adult disappearances were not considered by police in 1970. He is believed to have been buried in the location where he was ultimately found in either late 1970 or early 1971.
Characteristics
Ante-mortem healed fracture of the left 10th rib.
Facial structure and dental reconstruction are very precise.
Other facial details are unknown.
Clothes and accessories
A watch.
A portion of a red and yellow blanket-like material.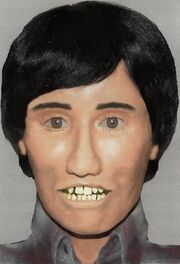 Sources