Dabid Santez Cristobal and Jose Perez Lorano were names provided by a man found deceased in 2009.
Characteristics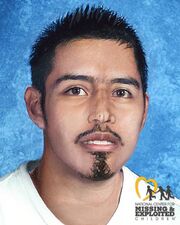 Short black hair.
Brown eyes.
Wore a moustache and goatee.
Blue/black tattoos of letters, possibly "TORO," on his the knuckles of his left index, middle, ring and pinky fingers.
A tattoo of a Native American design, possibly of a sun, on his left arm.
A tattoo of the letters "D.S.C." on the left side of his forehead.
Clothing
Sources