This article includes content which may be disturbing to some readers. Discretion is advised.
Cuyahoga County John Doe was a male located in 1969 in Cleveland, Ohio. His dismembered remains were discovered inside a barrel behind a residence.
Project Porchlight, a local Akron group specializing in cold cases, began assisting with the case in March 2021.
Case
The man's remains had been dismembered and placed inside a barrel filled with a chemical that was likely intended to deteriorate the body at a faster pace. He had been struck on the head and shot nine times.
Characteristics
Black medium length hair.
He likely suffered from Crouzon syndrome, resulting in an elongated skull and an asymmetrical face.
An upturned nose
Amateurish-appearing tattoo on his left forearm of the name "Sally"
Dental work:

A gold upper tooth
Upper and lower partial dentures
Visible fillings in two upper teeth
Clothing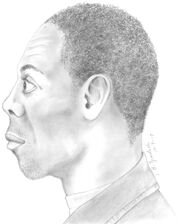 Tan, corduroy Cal Craft Sportswear jacket
Gray patterned cotton work shirt
Yellow and gray short-sleeve tee shirt
Gray trousers
Brown combat boots
Waltham wristwatch with white-metal stretch band.
Yellow-metal ring with blue stone.
Sources