This article includes content which may be disturbing to some readers. Discretion is advised.
Crittenden County Jane Doe was a woman found murdered in West Memphis, Arkansas in 1990. She is a victim of Samuel Little.
Case
The victim was found by a fisherman on the Arkansas side of the Mississippi River at about eight feet near the bank and near the river mile marker 722.2. In 2018, Samuel Little confessed to her murder. He told authorities she was a prostitute around 28-29 years old and he picked her up from a motel in Memphis, Tennessee. He strangled her in his car as a Memphis Police car drove by them. He then drove into Arkansas and parked at a bridge where he then dumped the victim into the river.
Between 1970-2005, Little killed up to 90 women who were involved in drugs or prostitution. Little has been convicted of eight murders in three states and linked to sixty-one additional murders, including this victim. The investigation into his crimes are ongoing.
Characteristics
Very curly black hair.
Pierced ears.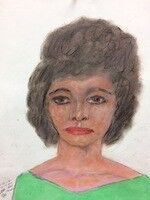 Clothing and accessories
Short sleeve maroon shirt w/ ruffled collar and angled side cut.
Blue jeans.
Underpants found in pocket of jeans.
Crack pipe.
Two packs of condoms.
Sixty-four bullets in her pockets: thirty-six are Auto brand NR .25, twenty-five are Federal brand with a jacket base, and three are Remington Peters brand.
Exclusions
Sources