Clocaenog Forest Man was a male whose skeletal remains were found in the dense undergrowth of Clocaenog Forest near Corwen in Denbighshire, Wales in 2015. The autopsy revealed he'd died from blunt force trauma to the head.
In life, he suffered from both arthritis and an inflammatory joint condition, which would have caused him pain and reduced his ability to move. He also suffered an injury to his spine, a broken nose, and possibly an injury to his left wrist prior to his death.
Characteristics
A stocky build.
A number of dental crowns on his front teeth, likely received in the UK between 1980 and 2000.
A unique remedial filling to a temporary plastic crown on a tooth.
Several missing molars, causing his cheeks to appear sunken.
Clothing
Dark green v-neck 'Pringle' jumper (Size XL). Near the body.
Maroon 'Marks & Spencer' briefs (Size 36"-39" waist). Near the body.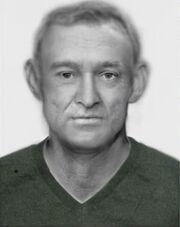 Sources