This article includes content which may be disturbing to some readers. Discretion is advised.
Christine Ruth "Chris" Thornton was a woman found murdered in Wyoming in 1982. She was identified in 2015, after her initial disappearance in 1977. Her family identified her as a subject of serial killer Rodney Alcala's photographs and eventually as the victim he buried in Wyoming. Thornton was expecting a child at the time of her murder.
Case
Thornton left her family in San Antonio, Texas, with her boyfriend in 1977. She was last seen in June of the same year, after the pair were in Biloxi, Mississippi, where they broke up, and she departed, never to be seen again.
Sometime afterward, she encountered serial killer Rodney Alcala, and she allowed him to photograph her, as he did with many of his victims. He eventually killed her and left her body off Interstate 80, near Granger, Wyoming, where it remained undiscovered until 1982. She was six months pregnant at the time she died.
The skeletal remains were estimated to belong to a female between 25 and 39. At the time, it was believed she had died around 1980.
Identification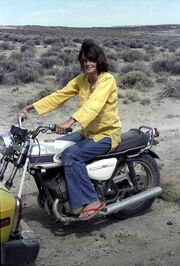 In 2013, Thornton's sister recognized her in an image depicting a dark-haired woman in a yellow shirt riding a motorcycle. The image was taken in close proximity to where she was later buried. Many subjects of his portraits have never been identified; some have been confirmed to be his victims.
After her identification in the summer of 2015, Rodney Alcala was charged with her murder. Alcala admitted to meeting and photographing her, yet he claimed she was "alive before [he] left her." He is believed to have killed up to 130 people before he was apprehended. He was convicted of five murders in California and New York, and he awaits execution. His victims were all females, ranging from children to young adults. He also had a history of sexually assaulting his victims, although it is unknown if this happened to Thornton.
Sources