Carroll County John Doe was an adult man whose skeletal remains were found in Kentucky in 1980.
Case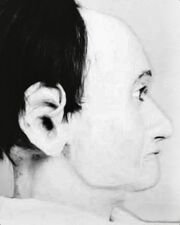 Partial skeletal remains of the victim were located on September 1, 1980 after flood waters receded on the Ohio River near Carrollton. On November 11, 1980, additional remains were found on the riverbank behind Kentucky Utilities Plant in Ghent. It is believed that both sets of remains may belong to the same individual.
In May 2017, a potential link between the remains and missing Constable George Hawkins was discovered. Hawkins disappeared in 1961 and is believed to have been killed by mobsters and bore a resemblance to the reconstruction of this victim. The comparison proved inconclusive.
Characteristics
Light to medium brown hair
He may have broken his nose, left ankle, and a foot during life
He appeared to have experienced poor nourishment at some point during life.

This may have been influenced by possible drug use

He may have had arthritis
He had no teeth at the time of death
Sources