Ascension Parish John Doe was a young man whose decomposing body was found in the Mississippi River in 1982.
Case
On the 2nd, Of February, the fully-clothed decomposing body of an unidentified male was found floating in the Mississippi River in Ascension Parish between Geismar and Gonzales. It was believed the man had been dead and in the waters of the Mississippi River for between 1 and 7 weeks.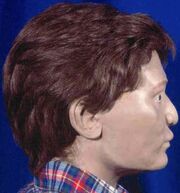 An autopsy determined the man to be of Caucasian descent and standing between 5'7" and 5'10" and weighing between 130lbs to 140lbs, with possibly brown hair and the age range of 18 to 21 years old. Extensive dental work, seen in several fillings, a slight overbite and a distinctive chip in his top left central tooth. ( however, it is unknown if this occurred prior or after his death ).
Clothing
Sears brown, blue and gold plaid Western-style shirt (size 14 to 14.5)
Sears blue jeans (size 30),
Black belt (unknown if this was fabric or leather)
White tennis shoes with 3 white stripes; brand and size not noted
Fruit of the Loom white underwear (size 32)
Sources