April Dawn Lacy (July 12, 1982 - c. October 2, 1996) was a fourteen-year-old girl who was found murdered in Decatur, Texas. She remained a Jane Doe for two years before she was identified. She was nicknamed "Brush Girl" while she remained a Jane Doe.
Case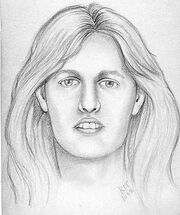 Lacy ran away from home to escape a dysfunctional household. Lacy's body was discovered about a week afterward.
She was initially estimated to be much older than she actually was. Dental records were later compared and matched, yet her family was skeptical of the identification until DNA matched.
Authorities suspect she was a victim of a serial killer, although she was excluded as a victim of the Redhead murders.
Media
Lacy's skull, reconstruction and photograph appeared in Karen T. Taylor's Forensic Art and Illustration.
Sources