"Alejandro Martinez" was the unverified name of a man found by the U.S. Border Patrol in Lyle Canyon in the Huachuca Mountains near Sierra Vista, Arizona. He was unrecognizable due to insect and/or animal activity.
In May 2017, FBI fingerprint records matched the victim to a man who provided law enforcement with this name and another name, "Florentino Martinez". He also provided his birthdate as March 6, 1968 and birthplace as Mexico. He is buried in Section N of Calvary Cemetery in Douglas, Arizona.
Characteristics
Black hair that is slightly greying and 5 to 8 centimeters in length.
Mild frontal balding.
Well-healed scar measuring 3.5 centimeters in the greatest dimension over the lateral surface of the proximal left upper extremity.
Tattoo of a skull with a bandana on upper right arm.
Tattoo of the word "Killer" and a bulldog on the right chest area.
Tattoo of the head of Jesus with the crown of thorns.
Tattoo of a skull with long hair and a beard on upper left arm.
Tattoo of the letters "Ceeia" on upper back.
Clothing and accessories
Blue, black, and white 'Adidas' zip front jacket.
White 'Senior 02' T-shirt (in small print "Class of 02").
Bright green 'Ocean Pacific' T-shirt.
Blue 'Quarry Denim' jeans, size 31.
Black 'Guess' leather belt with horseshoe shaped buckle with cowboy on a horse image in the center.
Green and white plaid boxers
Pair of white socks with blue stripes.
Pair of grey socks with white stripes.
Black 'Ferri' dress-style shoes, size unknown.
Photo of a woman.
White metallic medallion of a mother holding her child.
Five phone cards.
Ten cents in American currency and five cents in Mexican currency.
Possibly broken black big-headed dog keychain.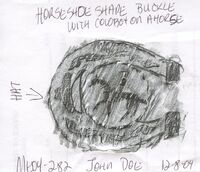 Sources