Aiken County Jane Doe was a woman found murdered in 1993. She is believed to be a victim of a serial killer, preceding an unidentified victim found in 1987.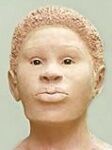 Case
An unidentified black female's skeletal remains were discovered near Shaw's Creek off of Highway 191 in Aiken County, South Carolina on January 25, 1993. The victim's death was estimated to be around 1990-92.
Her remains were burned in a ground fire. Her murder is possibly related to two other unsolved homicide cases of black women in Aiken County, including the murders of Jackie Council and a previous victim found in 1987.
All three victims were found naked, and approximately a half-mile from each other. Despite the fact that Henry Louis Wallace was suspected, who assaulted black women in South Carolina, no one has been charged with any of the three Aiken County cases.
Characteristics
She had a slim to medium build.
She was right-handed.
She had an overbite.
Exclusions
Sources